EDEN
Welcome to a realm where the conventional dissolves and the extraordinary unfolds—an invitation to immerse yourself in the unparalleled journey of "EDEN: Beyond Paradise."
More than an exhibition, "EDEN" is a transformative artistic revolution, challenging norms and beckoning you to shatter the confines of the ordinary. Traverse the nuanced strokes of a brush and the captivating essence of a photograph as we redefine EDEN into a deeply personal and uniquely individual experience—transcending traditional paradises.
In this kaleidoscope of interpretations, each artwork is a canvas of boundless possibilities, compelling you to explore diverse perspectives and embrace the unfiltered emotion within. From the untamed embrace of primal landscapes to the vibrant energy of urban utopias, "EDEN" unfolds as a living narrative, echoing personal whispers of nostalgia, dreams, and sensory connections.
For art collectors and aficionados in pursuit of an unparalleled experience, "EDEN: Beyond Paradise" is not merely an exhibition—it is a sanctuary of creativity. Beyond the showcased artworks, a door opens to explore the personal Edens of the artists, comprehend the fervor shaping their visions, and connect with a rich landscape of artistic expression. Step into the extraordinary, where each stroke and snapshot is a portal to an avant-garde exploration of the concept of paradise.
20% OFF STORE WIDE

Automatic savings at checkout.
Call for Female Artists: Venus Rising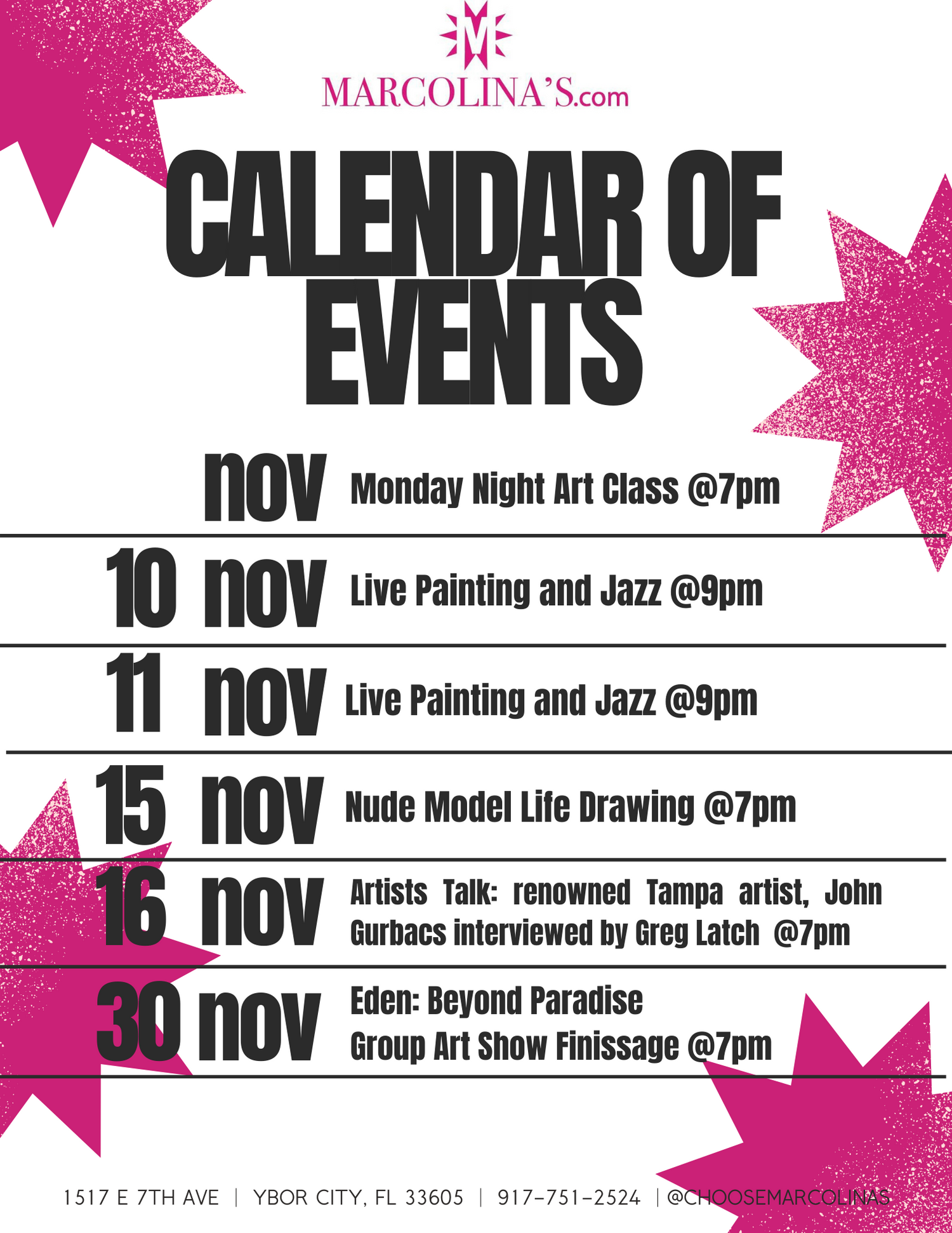 November's Calendar of Events
Get ready for a month filled with creativity and inspiration at Marcolina's Fine Arts Gallery. Here's a sneak peek at some of the exciting events happening in November:
Monday Night Art Class: Enhance your art skills every Monday.
Third Wednesday Life Drawing: Explore the human form through drawing.
Artists Talk with Special Guest: Gain insights from a renowned artist.
Eden: Beyond Paradise Finnassage: A unique sensory experience.
These events offer a diverse range of opportunities to engage with art and culture, whether you're an artist, art lover, or simply looking for a new and enriching experience. Join us at Marcolina's Fine Arts Gallery and let your creative spirit soar this November!
Art Vibes: Monday Nights at Marcolina's Academy of the Arts
Get ready to unleash your inner artist at Marcolina's Academy of the Arts! 🎨 Join us every Monday night at 7 pm for the hottest art class in town – Monday Night Art Class. It's not your typical art session; it's a vibe, a community, and a whole lot of creativity.
Whether you're a seasoned Picasso or just picking up a paintbrush for the first time, our Monday Night Art Class is the place to be. Our artist instructors bring the energy, the expertise, and a whole lot of cool to help you discover your artistic groove.
And guess what? The price is as chill as the atmosphere – just a $10 minimum donation gets you in the door. Break out of the ordinary, break out the paints, and let's turn Monday nights into a masterpiece. Marcolina's Academy of the Arts is where art meets attitude. See you there! 🚀🎨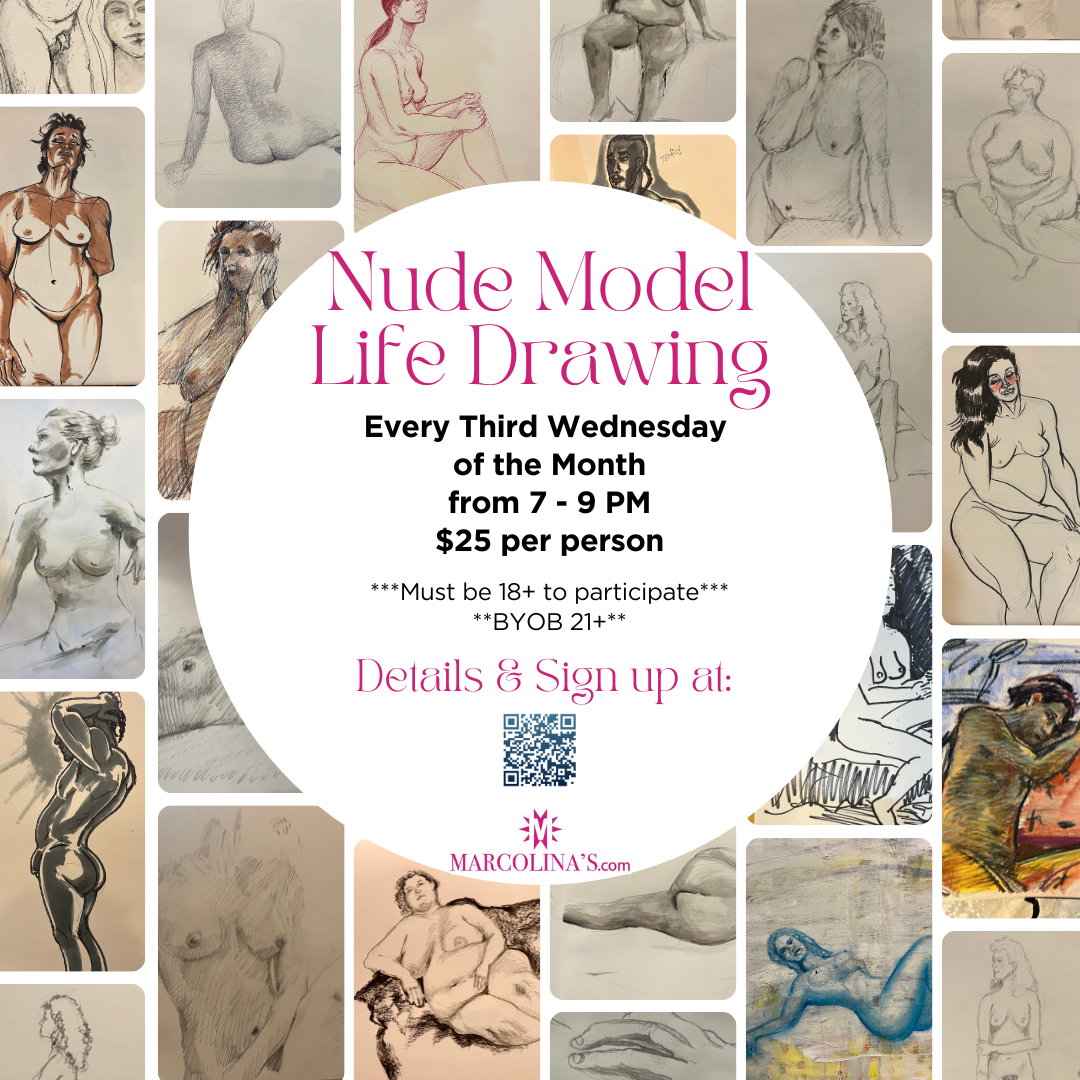 Nude Model Life Drawing
🎨✨ Nude Vibes Only! 🎨✨ Dive deep into the art of the human form in our unguided life drawing sessions.
Elevate your artistic game, vibe with fellow creatives, and immerse yourself in the captivating allure of the human canvas.
Capture movement, emotion, and gesture with live nude models striking poses from 15 to 45 minutes.
All levels welcome, 18 and above! 🎟️ Seats are like gold – secure yours now! Unleash your creativity: Join our Life Drawing Session today!
Sign Up
Artists Talk: Discover the Dialogue
Support Us
Shopping with Marcolina's helps support our gallery and artists
Marcolina's artists embody a rich tapestry of styles, mediums, and cultural influences, showcasing talents in painting, photography, sculpture, mixed media, and more, hailing from a mosaic of countries and ethnicities.
GIFT CARDS
Gift Artful Inspiration with Marcolina's Fine Arts Gallery!
Our gift cards are more than a present; they're a journey into creativity. Support local artists and let your loved ones unlock an artwork that speaks to their soul. Whether they're art connoisseurs or newcomers, our expert team is here to guide them in finding the perfect masterpiece. Give the gift of inspiration today!
SHOP HERE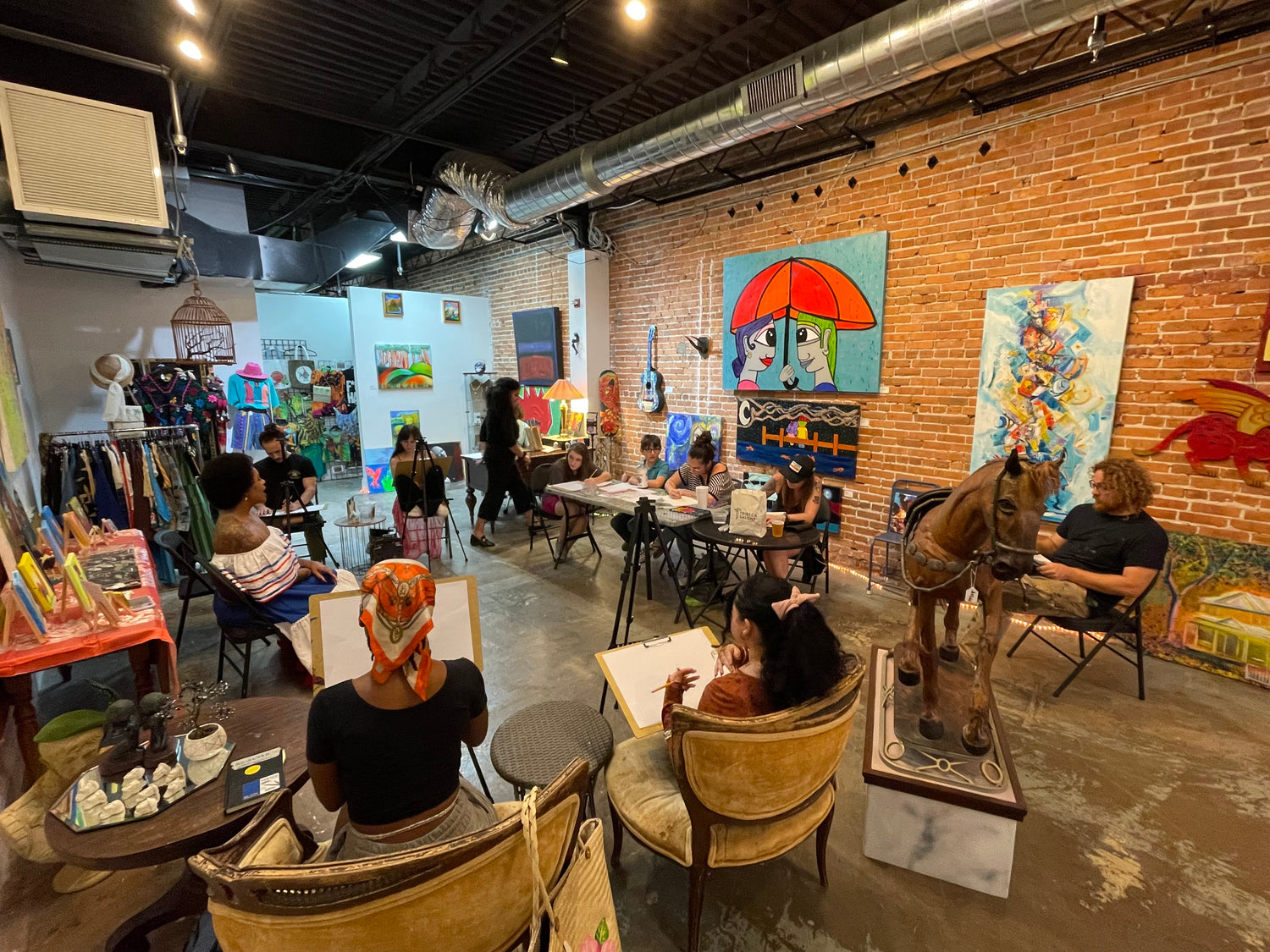 DONATE
Fuel Ybor City's Cultural Renaissance with Us!
Become a catalyst for change in Tampa Bay's Ybor City. Support the growth of our dynamic art and cultural enrichment initiative. Your contribution will help us ignite creativity and invigorate our community's cultural scene. Join us today to help shape Ybor City's cultural renaissance!
DONATE HERE